Perry's arrived to Canada in 1956. He immediately started work in a kitchen, El Plaza Restaurant in Billings Bridge Shopping Centre. Three years later, Perry opened a Snack Bar in an Ottawa Bowling Alley. He later sold his Snack Bar and moved to Perth in 1961 and was a short order cook for The Perth Restaurant. Three months later Perry bought his first official restaurant on Hwy. #7, Harry Rider's Diner. His down payment was the $42.00 in his pocket. He ran that business successfully for 5 years. Perry did some traveling after selling the Diner. He went to Brockville, then to Ottawa and Alymer Quebec operating a catering business.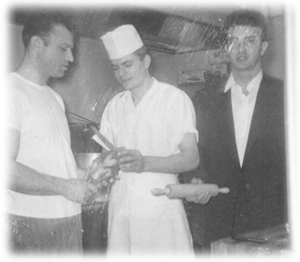 Perry (middle) El Plaza Restaurant, 1956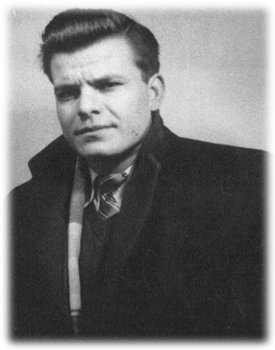 1961, successful playboy businessman
In 1975, Perry came back home to Lanark County. He opened Perry's Restaurant in the Village of Lanark and was very successful with his establishment untill 1990 when he sold it and moved into the Town of Perth. Out of work only temporarily, he opened Perry's Take Out on Wilson Street W. with his wife Shirly and younger daughter Demetrie. All of Perry's many friends throughout Lanark came and had great food untill his retirement in March 2001. Perry tried to retire but it was a big disappointment. Perry loves to be in a kitchen or close to a grill, as well as love to make people laugh and smile with his great cooking, he opened Perry's BBQ in
June 2001.